Diabetes currently affects more than ten percentage of total Nepali population and, unfortunately, it is expected to affect in rapid rate in coming years.
World Health Organisation defines 'Diabetes' as a chronic disease that occurs either when the pancreas does not produce enough insulin or when the body cannot effectively use the insulin it produces. According to the International Diabetes Federation, diabetes affects at least 285 million people worldwide, and that number is expected to reach 438 million by the year 2030, with two-thirds of all diabetes cases occurring in low- to middle-income countries like Nepal. It is imperative that steps be taken, taken full-fledged and right away, to address before more people and families suffer from diabetes.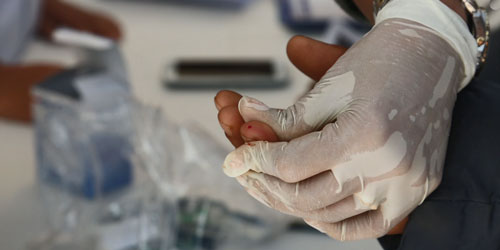 Since the proclamation of the first World Diabetes Day in 1991, the day is celebrated worldwide as an acknowledgement of the condition, symptoms, complications, treatment and resolve to find a cure for the diabetes. More than two third of the nations worldwide celebrate this day with participation from organizations, health care professionals and people living with and without diabetes. World Diabetes day was celebrated on November 14th this year, and I must say I was privileged to be among the organisers for day celebration in Nepal. The event was organized by HERD International, in collaboration with Tribhuvan University Teaching Hospital (TUTH) Dietetics Department, University College London (UCL) and World Diabetes Foundation (WDF).
Named as 'World Diabetes Day Mela (Fair) Nepal' to urge people to learn more about facets of diabetes, we had planned several activities in order to organise the event in enthusiastic presence of high-level stakeholders, media personnel, health workers, volunteers, among others. We started making necessary logistic arrangements a couple of weeks prior to the event which also included getting approval from local police department. With all planning and rehearsals in place, we were all set to celebrate the day, and I must admit the thought of event gave me butterflies in the stomach.
Walk against Diabetes
To start the event, participants gathered at Narayan Chaur, Kathmandu to initiate 'Walk Against Diabetes,' a walk covering about 4 kilometers. The communication team at HERD International had done extensive announcement of the event via website and social media, so that larger section of people would know about diabetes, even if they could not participate in the event. The presence of media and security personnel definitely made our presence felt among the passersby.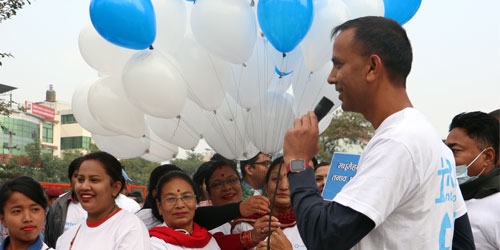 Dr. Sushil Baral, Managing Director of HERD International informed the participants about diabetes and its effects to individual, family, community and nation as a whole. With commitments made for increased physical activities, reduced stress, and secession from alcohol, tobacco and other unhealthy food habits, participants proceeded towards TUTH with banner and several placards with messages written to create awareness about diabetes.
At the premises of TUTH, a group of around twenty-five volunteers were getting ready to welcome the participants and start the proceeding as planned for the day-celebration. Heads of several departments of TUTH graciously welcomed the participants and gave their respective speech, and together signaled formal opening of the event.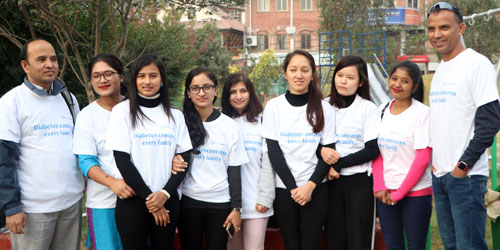 Diabetes Screening and Prevention Counselling
Lack of knowledge about diabetes means that spotting the warning signs is not just a problem for individuals, but is an issue impacting a cross-section of society. Several studies suggest that the adults across the globe failed to correctly identify the warning signs of diabetes. The signs are milder in type 2 diabetes, the most prevalent form of the condition, and it has been a major concern. To emphasize on this matter, visitors at TUTH were provided with free diabetes screening and prevention counselling. The blood sugar level of participants was revealed on the spot, and counselling was provided accordingly. Participants appreciated the activity as it would let them know about their diabetic status instantly and get appropriate counselling; all free of cost. This activity was conducted all day long with about 500 participants benefitted.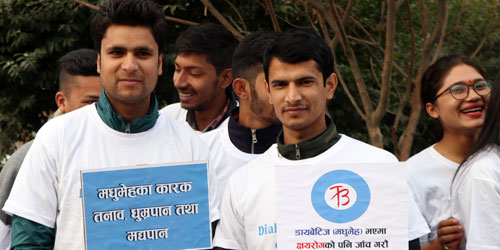 Short Personal Photo-Stories
To show the point-of-view of several persons related to diabetes, from doctors to patients, photo-story were presented to the audience. An audio clip would play on the headset, depicting the view of doctor or diabetes survivor, depending on the stall.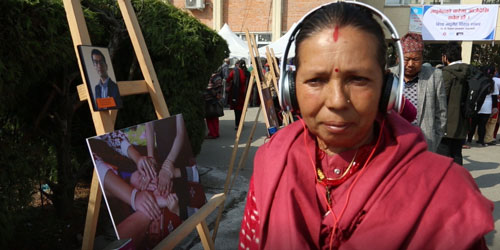 A corresponding picture placed on the stand gave the audience the feel of the stories they were hearing on the headsets. This was the most challenging activity to organise as it took more than a couple of weeks to prepare the audio clips and had to be precise on timeliness. In the hindsight, I believe this activity proved its worth exactly as we had envisioned while planning. A lot of stereotypes were addressed to bring positive changes in the lives of the participants on this day-long activity.
BMI Calculation and Counselling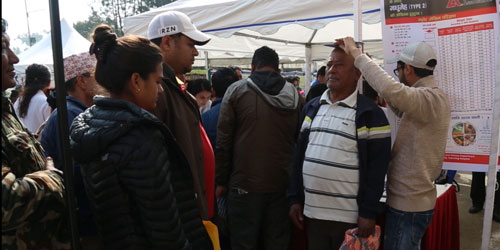 BMI is a calculation of the body size size that takes into account the height and weight. In general, higher the BMI is, higher is the risk of developing a range of conditions linked with excess weight, including diabetes. It's a useful starting point for important conditions that become more likely when a person is overweight or obese. In the event, volunteers measured the height and weight of the participants and let them know about their BMI instantly. They were also counselled about importance of the measures to get into correct body shape and size to prevent several conditions including diabetes. On this day-long activity, around 600 participants have had their BMI calculated and counselled.
Diabetes Quiz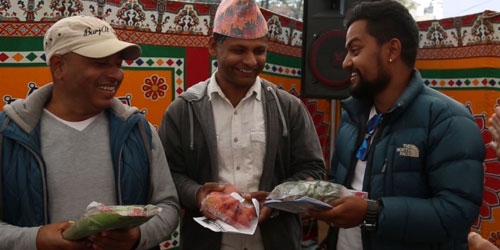 To make the event interesting and enhance the knowledge of participants about diabetes, we conducted four sessions of quiz with questions related to diabetes. Due to high volume of want-to-be participants, we were facing difficulties initially to manage the crowd (which is actually a pleasant trouble for an organizer). We decided to have about twenty participants on each session, and each session would have only six yes/no questions. The winners were provided with fruits and vegetables as the gift. For each question, the participants were explained why their answer to the diabetes related question was right or wrong.
Zumba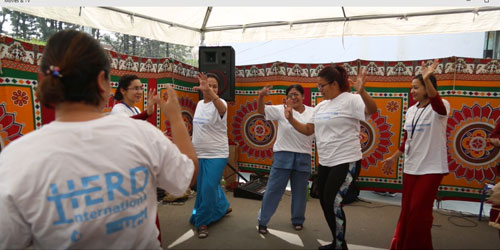 Zumba is a great alternative to traditional fitness programs as it is more fun, great for weight loss, tones the entire body, boosts the heart health and helps to de-stress. Repeated practice improves body coordination and helps to feel more comfortable moving the body. This is one of the effective methods to help prevent and control diabetes, although several bodily conditions may have to be predetermined.
During the event, five sessions of Zumba were conducted with energetic participation. Time constraint of the trainer was the factor that we could not organize more sessions. These sessions were the attraction of the day.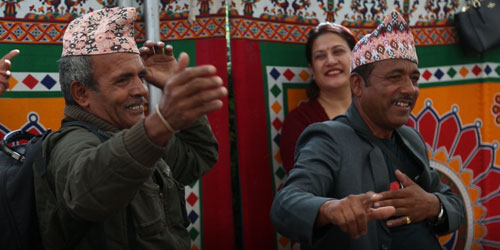 The participants learned during the event that diabetes can become a life-threatening condition if not treated early and managed appropriately, leading to devastating complications. They also learnt that the rise in diabetes, particularly type 2, could in many cases be stopped if people knew the warning signs and risk factors so they could adopt a healthier lifestyle and seek treatment as for many people in developing countries, type 1 diabetes is considered fatal and many with type 2 diabetes are diagnosed too late when complications are already present. Every time I look at the statistics, I am a bit more shocked to realize that the numbers are going up much faster than I thought was possible. Diabetes currently affects more than ten percentage of total Nepali population and, unfortunately, it is expected to affect in rapid rate in coming years.
The symbol of World Diabetes Day, a blue circle, has become the sign of unity against Diabetes. I came out more educated on diabetes than I knew before the event, and I hope that all participants and observers of the day will have positive effect on reduction of severity of diabetes and its concerns on families. The bunch of blue balloons that we let go up in the air during the inauguration of the day will unite everyone on this noble cause, I am optimistic.
Dr Baral best summarized the day, during the closing ceremony of the event, "the wide spreading rate of diabetes is unacceptable and needs to be addressed as a matter of urgency. Many community level interventions are required with active participation from government, development partners, health workers and all stakeholders to control diabetes before this goes epidemic. We must join hands in raising awareness of the impact that diabetes has on family and support network of those affected as there is immediate need to promote management, care, prevention and education of diabetes."
By Santosh Pudasaini
Event Coverage
The event was covered well by national media. Below are some of the links to the news coverage:
Janata TV: https://www.youtube.com/watch?v=X2lIdiVX6tI
Image Khabar: https://www.youtube.com/watch?v=1WoitZPu5TQ
ABC News: https://www.youtube.com/watch?v=vtaaJ2oE4As
Swasthya Khabar: http://swasthyakhabar.com/story/26074
This image below has been published on 15 Novemeber 2018 on Kantipur (with glimpse on front page, top-right corner):